Belong-ongoing
2014
Intervention and Webpage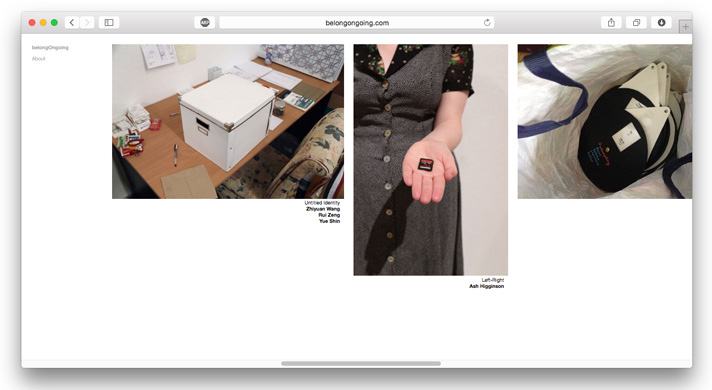 TEXT →



http://belongongoing.com/ [In collaboration with Ana María Montenegro Jaramillo]

Belong was an exhibition curated by Yueqi Chen, Anita Giansante, Juan Pablo Pacheco and Julian Wong-Nelson held at the Diego Rivera Gallery in the San Francisco Art Institute.

We carried out the following action:
- The last day of the show we replaced the artworks by the original proposal texts sent by the artists.
- After the dismantling of the artworks we documented the places and contexts where they were (and remain) re-located.
- We built this website as a virtual on-going exhibition.

A work of art is determined by its temporal and spatial nature, which is usually ruled by curatorial laws. This proposal aims to literally address the questions posed within the open call by making use of these questions in relation to the accepted artworks of the exhibition. What does it mean for these selected artworks to exist in a determined time and space? Should they belong anywhere at all? Is it possible for them to exist in a state of placelessness? Where and when do they start/stop belonging? We want to investigate the different forces that construct the foreground that enables us to ponder about the idea of an artwork being part of a specific category, and how this category operates in the art context. Our aim is to amplify and prolong the effects and affects of the show (regarding the short period of time of the exhibition), like an echo that contemplates first intentions, proposals, physical resolutions, spatial limits and posterior dismantling; the arc of an artwork's life.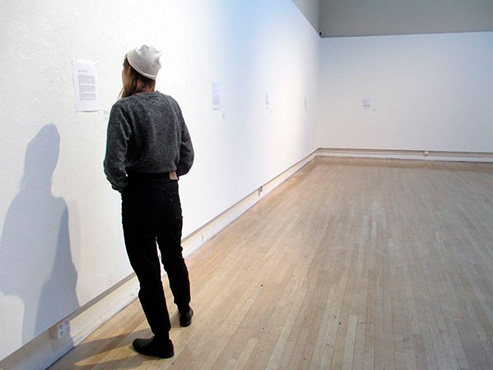 Installation view from the in the Diego Rivera Gallery (San Francisco)